So Russia obviously didn't win Eurovision last year, due to placing fifth in the jury vote despite winning the televoting. I can definitely feel for Sergey Lazarev, especially after the presidential election here in the US: same story with second place winning the televote popular vote but losing out on jury electoral vote. And of course in both cases, the winner turned out to be involved in major controversy. In the US, that turned out to be whatever circus is going on in the executive branch right now. In the Eurovision world, that meant another year of messy relationships between Russia and Ukraine. Sending an internationally popular artist in attempt to create a "positive stereotype" didn't work in 2016; as a result, Channel One went back to its original tactic from 2013: sending a seemingly apolitical peace ballad by a female artist. This time they chose Julia Samoylova with the entry "Flame is Burning."
Even though I don't dislike Russia's entry this year, it's not one of my favorites and took me about 20 listens to enjoy the song. It's probably due to the supposed "ballad dominance" every year, despite ballads making up only 1/3 of the songs this year. And yes, there can be ballads with drama shooting up and down like Albania's, or ballads that pull a Scorpions' "Still Loving You" and drag out emotion for as long as possible. However, Russia's entry is not one of them. It's there, it's sweet, but it doesn't stand out in its initial listen, and somehow it reminds me of the one image on FB of Charmander in the rain.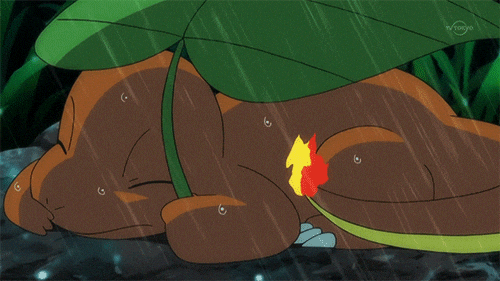 Also, even if Julia Samoylova had been announced, selected by Channel One Russia, or even shortlisted, her song seems to have been given to her at even shorter notice. Given her previous performances in Faktor A (Russian equivalent of X-Factor), especially this performance of Molitva, a) she didn't seem to have as much time to rehearse, b) she's 200% likely to not be a native English speaker and probably learned the lyrics phonetically, or c) both a and b. However, if it weren't a Eurovision entry, I could definitely picture her singing this song with a children's choir (or at least at some elementary school's music event).
Politics aside, the song isn't terrible. Song-wise she can definitely pull it off (especially since she's singing while sitting down and therefore with reduced lung capacity), and it theoretically could be viewed as sincere and a part of her personal story. But then there's…Cry-Me-A-River-Gate.
Due to the Russian and Ukrainian claims over Crimea (i.e. Russia has claimed Crimea as Russian territory since 18 Mar 2014; Ukraine rejects this claim and still considers the area Ukrainian soil), Ukraine passed a law stating that individuals entering Crimea without a permit from the Ukrainian government have entered illegally; individuals who do so will be declared personae non gratae and banned from any future visits to the country.
And that was what happened with Julia Samoylova. She performed in Crimea in 2015 (and posted it on social media), a year after Russian annexation. As a result, the Ukrainian parliament blacklisted her from entering the country for three years. Channel One Russia retaliated by threatening to withdraw from the competition and leave. I'm going to guess that Channel One Russia and Russia-1 pay a lot to the EBU for participation in Eurovision, because the EBU suggested that Ukraine delay the travel ban until after Eurovision, or let Russia bypass the entry ban by performing via satellite link. (Ukrainian Parliament blocked the offer by stating that they refused to live-stream personae non gratae, and Channel One Russia refused because a) it was weird and b) it seemed to go against the spirit of the contest.) The EBU has also suggested negative consequences for not allowing Russia's participation, but besides the Romania's incident last year nothing has been forcibly done. Armenia, which had a clear violation of the "no explicit politics" rule last year by waving a Nagorno-Karabakh flag at the semifinals, was told to meet with the EBU in June for discussion, and that has not led to anything visible outside the world of Eurovision HOD's.
No comment on how Channel One Russia made the decision, but it definitely seems like a live action YouTube comment page full of trolls. I still don't know what's going on between the three individuals fighting in the sandbox (and commentators on the side selling fruit gushers), so I'll back off and say that if "Flame is Burning" participates, it probably won't do well due to its lack of immediate impact and be propped up to 9th-11th place simply with the connection to Russia.
I still want to hear that children's choir version though…