It's been a month since the 2016-2017 Eurovision Season started, and not that much has happened, just the usual:
Andorra, Luxembourg, and Liechtenstein are not participating. The Vatican is not participating (what would they send anyway? A rapping cardinal/priest?)
Turkey is still out, despite the possibility of some TRT members thinking about participating sometime in the future. Then again, they essentially said "we'll see," which means no (as every person who's been a little kid knows).
Bosnia and Herzegovina is out due to financial reasons (which also isn't surprising; Deen and Dalal and Co. got to participate through sponsors because BHRT wasn't going to pay for stuff.)
Armenia just launched its national selection Depi Evratesil ("Towards Eurovision"), and a) my computer wouldn't launch the stream and b) the internet proceeded to crash. (I think that's a sign from the chem department to study then, considering I just bombed a math exam…)
Otherwise all I say is that a) this country is a mess, b) my life is a mess, and c) pretty much everything is a mess. *Cue Boggie singing that the world is a mess right now*
So instead of looking at the trainwreck that is this world/my life/whatever is going on in the presidential election, let's look at something a bit nicer for now: Mello.
Not that Mello, this Mello. Also, I much prefer Mountain Dew.
Anyways , SVT announced that Hasse Andersson,  David Lindgren, and Clara Henry will host Melodifestivalen next year, to be hosted in Göteborg, Malmö, Växjö, Skellefteå (semifinals), Linköping (Andra Chansen), and Stockholm (Final).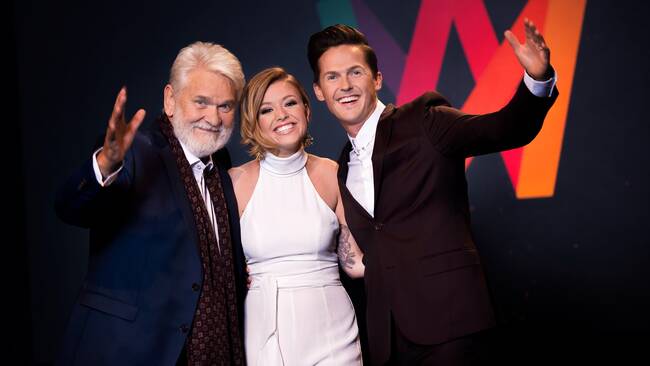 For people who don't watch Melodifestivalen, Hasse Andersson was the old man who was playing the "Swedish Kvinnaböske/a small roundish instrument from the horn family inherited from the Vikings" during Love Love Peace Peace.
Otherwise he was one of the finalists in Melodifestivalen 2015 that qualified through Andra Chansen. I've never seen him do a speaking role, so this should be interesting.
David Lindgren also participated during Melodifestivalen, making the final the three times that he qualified in 2012, 2013, and 2016.
Considering that he also does stage musicals, I'm not that surprised about him having a speaking role this time. Then again, it's also the same reason I wasn't surprised that he was trying to look 17 and/or qualify for High School Musical at Mello last year (since HOW MANY 20-year-old characters on Broadway are played by 35-year-olds?)
(FYI, I actually like his songs. I just had a really bad day during Semi 2 at Mello this year and felt disappointed for almost everything…)
And then there's Clara Henry, who's one of my favorite YouTubers. Mello-wise she's hosted aftershow commentary that I've never watched, but I really like her to-the-point commentary on random subjects. Given that she's worked with SVT a few times, she should come off as less awkward than William Spetz at the final last year.
As of so far, that's all we know about the contest until SVT announces the 28 artists in November, but ESC season is finally kicking off! (Now I just have to make sure I do well on exams…)